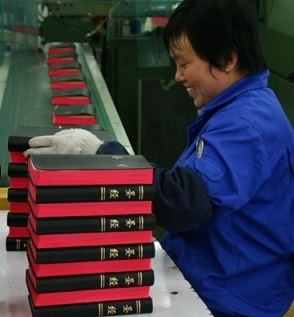 (continued from United Bible Societies)
What should Amity Press do?
• The Chinese Communist Party should allow Amity Press to fill bulk orders from China's house churches. Amity Press should also be allowed to supply Bibles to Xinhua Bookstore and other bookstores in China.*
• In fact, Amity Press should be allowed to sell Bibles to everyone. If cults like Eastern Lightning, New Testament Church or Shouters order Bibles, Amity Press should fill their orders. The only antidote to their heresies and the dangers they pose to the Chinese society is the true Word of God (see True Gospel).
• Surveillance cameras should be removed from Three Self churches, including their after-service Bible selling counters. Until the cameras are removed, China's House Church Christians should wear hats, sunglasses and face masks to enter Three Self churches after their services, buy Bibles with cash, exit, and not remove their hat, sunglasses and face mask until they are distant from the Three Self church (there are surveillance cameras on the streets as well).
• Amity Press should stop hiking prices for foreigners who buy its Bibles to give to poor Chinese Christians (for an update on this, click here).
• Amity Press also should print and sell an accurate Chinese translation of the original Bible.
What else can be done for more Amity-printed Bibles to reach Chinese Christians?
• According to one large Western protestant denomination, for every $1 spent on missions, its congregations spend $5 on the interest payments (not even the principal) on their church building mortgages. More money needs to flow to Western Missions organizations that support poor Christians around the world who need Bibles more than Western Christians need buildings and social events.
• More funds should also flow from the wealthy churches in China to provide Bibles to the poor Chinese Christians.
* On January 11, 2012, Amity was emailed as below:
Dear Nanjing Amity Printing Company,
The world is curious about your continued development as a Bible printer. We would appreciate your answers to the following questions:
In 2011, how many complete (containing both Old & New Testament) Chinese Bibles did you print and ship to the Three Self Churches in China?
In 2011, how many complete (containing both Old & New Testament) Chinese Bibles did you print and ship to buyers in China who were NOT associated with the Three Self Church?
Up to how many Chinese Bibles can a buyer in China who is NOT associated with the Three Self Church purchase from you per order, and how long do you require to fill such orders?
When do you plan to print and make available in China the New King James Version (NKJV) Bible, both on its own and as the English half of English-Chinese Bibles?
Thank you in advance for your responses.
Sincerely,
BillionBibles
For their reaction, continue to Amity Foundation.