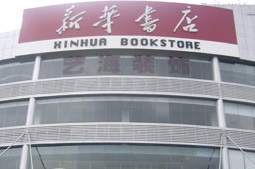 Xinhua Bookstore was created by the Propaganda Directorate of the Chinese Communist Party, which strives to control what people read in and about China.
Still owned by the Chinese Communist Party, Xinhua Bookstore occupies over 15,000 prime retail locations across China and remains its dominant bookstore chain.
In recent years, Xinhua Bookstore has been branching out overseas. Today, there are Xinhua Bookstores in Flushing, New York; San Diego, California; London, UK; Sydney and Melbourne in Australia:
Xinhua Bookstore Flushing - 3719 Main Street, Flushing, NY 11354 USA (718) 358-2478
Xinhua Bookstore San Diego - 7373 Convoy Court, San Diego, CA 92111 (858) 565-9988
Xinhua Bookstore London - 55/57 Park Royal Road, London, NW10 7LR United Kingdom
Xinhua Bookstore Sydney - 1/148-150 Rowe Street Eastwood NSW 2122 Australia +(61) 2 8021 1307
Xinhua Bookstore Melbourne - 543 Station Store, Box Hill VIC 3128 Australia +(61) 3 9078 5968
The one book that cannot be found at any Xinhua Bookstore in China is the Bible. China now has more Christians than any other country in the world (see Christianity in China) and also prints more Bibles than any other country in the world (see Amity Printing). Yet, the Chinese Communist Party continues to forbid the Bible from being sold to its citizens at the Xinhua Bookstores in China.
Why?
The Chinese Communist Party wants to suppress Christianity and its growth in China (see Christian persecution in China), but this ploy is backfiring; instead of suppressing Christianity, it is giving rise to pseudo-Christian cults and sects (e.g., Eastern Lightning and Shouters) that threaten the Chinese society (see China Threat).
The antidote to the false and dangerous teachings of such pseudo-Christian cults and sects is the True Gospel of the Bible, which should be made as easy to buy as the books on Taoism and Buddhism that line Xinhua Bookstore shelves across China.
What can the Christians in the West do to help?
Those near the Xinhua Bookstores in the West can picket them to bring attention to the Chinese Communist Party's hypocrisy in allowing Chinese Bibles to be sold in its stores in the West, albeit at exorbitant prices, but not to its own citizens at its stores in China.
Related: See how the Chinese Communist Party plants and leverages Confucius Institute and CSSA inside foreign universities.
2018 Update
The Chinese Communist Party's propaganda efforts in the West have extended beyond the print media to the airwaves. At least 33 radio stations in 14 countries, including 15 radio stations in the United States (including in Atlanta, Houston, Philadelphia, Portland, Honolulu, Salt Lake City and the WCRW in Washington D.C.), with vague ownership structures have been discovered to be controlled by the Chinese Communist Party-owned China Radio International through front companies that own either the radio stations or lease the majority of their peculiarly advertisement-free air times.
And the Chinese Bibles sold in Xinhua Bookstores in the West soon will no longer be real Bibles (see "Sinicization of Christianity" and Chinese Bible).