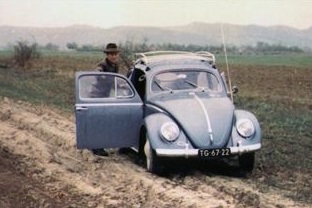 Open Doors with Brother Andrew ("Open Doors") is a ministry that supports some of the most persecuted Christians in the world. Open Doors identifies itself as, "We are a part of the body of Christ, called to the persecuted church, people of prayer, seeking to live by faith, devoted to Jesus Christ and His call, motivated solely for the glory of God."
Open Doors with Brother Andrew was founded in 1955 by Andrew van de Bijl, a Dutchman who began smuggling Bibles into the Communist Eastern Europe (above) during the height of the Cold War. In 1981, Open Doors smuggled one million Bibles into Communist China in one night in the legendary Project Pearl.
In 2016, Open Doors was active in 60+ countries, supporting 200,000 Christians in need, training 250,000 people, and delivering about 2 million Bibles and Christian literature (6.9 million in 2006 and 3.4 million in 2010).
Open Doors also publishes its annual World Watch List, which details and ranks the intensity of persecution against Christians around the world. For the past 16 years, that list has been topped by North Korea.
Financing Open Doors' operations worldwide are its 22 national chapters in Australia, Brazil, Canada, Denmark, France, Germany, Holland, Italy, Indonesia, Italy, Malaysia, New Zealand, Philippines, Norway, Poland, Singapore, South Africa, South Korea, Spain, Sweden, Switzerland, UK and USA.
Strength
Brother Andrew, born in 1928, is almost 90 years old and no longer has official authority over any of the Open Doors offices. He retired for a few years at the pleading of his cardiologist but has since returned to active duty, trusting the Lord to promote him to heaven in His time. Brother Andrew continues to provide crucial credibility and leadership for the entire Open Doors network:
"I think we in the West, and this is a personal confession, I think we are cowards. We want our personal profit to come first. And if that is at risk, we don't do anything. We ought to become people of guts and courage and strong convictions, and don't count our lives dear unto ourselves if only we can fulfill the high calling of God on our lives." - Brother Andrew, Open Doors 60th Anniversary Event, March 23, 2015
"If we have no eye for the lost around us, how can we then ever have God's love for the people far away. Nobody ever becomes a missionary by crossing the ocean. You are here a missionary or you're not a missionary." - Brother Andrew, Open Doors 60th Anniversary Event, March 23, 2015
"Until the end of the Second World War, 7/8 of the entire Muslim world was colonized by Christian nations, and we didn't make a dent in the situation, not politically, not religiously. We just let them go to hell. And now, we are reaping the results." - Brother Andrew, Open Doors 60th Anniversary Event, March 23, 2015
"The more radical the Muslims are, the more receptive they are to the seed - the Word of God." - Brother Andrew, Open Doors 60th Anniversary Event, March 23, 2015
"Death is not the end; martyrdom is an honor... Don't volunteer for martyrdom, but don't avoid it either when you can." - Brother Andrew, Open Doors 60th Anniversary Event, March 23, 2015
Weaknesses
Brother Andrew's eventual heavenly promotion will create a leadership vacuum for the entire Open Doors network that will be difficult to fill. In 2016, Open Doors USA, the largest chapter in the network, spent $2.5 million to raise $20.5 million of donations.
Solutions
Line up a servant leader from the frontline who will keep the focus on serving the persecuted church, cry out to God to move donors, and rely on the Bible instead of fundraising strategies. Emulate the fundraising principles and practices of HeartCry and learn from the post-founder era leadership and management issues that plague Voice of the Martyrs.