Open Doors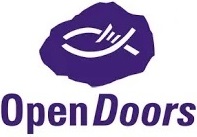 Open Doors with Brother Andrew ("Open Doors") is a former Bible smuggling organization whose database of the persecution of Christians around the world is now being sold for money.
Strengths
Open Doors has a storied past. It was founded in 1955 by Andrew van der Bijl, a Dutchman better known as "Brother Andrew" or "God's Smuggler," who began smuggling Bibles into Communist eastern Europe during the Cold War. In 1981, Brother Andrew and Open Doors were behind the legendary Project Pearl that smuggled one million Bibles into Communist China in one night. Open Doors maintains a World Watch List that details and annually ranks the countries that persecute Christians.
Weaknesses
1. Open Doors now sells persecuted Christians' information for cash.
Viewing the World Watch List of the persecution of Christians around the world on Open Doors USA's website now requires paying money or disclosing email address, to which requests for donations then begin to be sent. Brother Andrew spent his life helping persecuted Christians around the world. The current leadership of Open Doors USA sells their information for cash or uses it as bait for soliciting money.
2. Most of the donations collected by Open Doors USA no longer leaves USA.
Open Doors USA continues to solicit donations to "send financial support or Bibles to Christians living in hostile regions" (source), but 58% of all donations collected by Open Doors USA is now spent in USA (source):
| | | |
| --- | --- | --- |
| 2020 ANNUAL REPORT | SPENDING | OF TOTAL |
| Fundraising | $3,713,869 | 13% |
| Administration | $2,895,231 | 10% |
| Research & Advocacy | $976,128 | 3% |
| Public Awareness in Free World | $9,216,553 | 32% |
| Subtotal Free World (USA) | $16,801,781 | 58% |
| Bible & Literature Distribution | $2,631,205 | 9% |
| Socio-economic Development | $4,772,527 | 17% |
| Training | $4,605,635 | 16% |
| Subtotal Persecuted Christians | $12,009,367 | 42% |
| TOTAL | $28,811,148 | 100% |
| | | |
3. Donations to Open Doors USA that leave USA remain unexplained.
The former Bible smuggling organization now spends only "9%" (above) of the donations collected on "Bible & Literature Distribution." Since "Literature" can mean anything, Open Doors USA was asked how many Bibles are included in the 2020's "Bible & Literature Distribution" for $2.63 million (above). After evading the question through ten email exchanges (five each way) from April to June 2021, Open Doors USA finally stated that the number of Bibles in "Bible & Literature Distribution" is not "information we can give you."
4. The current leaders of Open Doors USA pay themselves exorbitant salaries.
From the donations collected, each of the top three leaders (Curry, Muret and Wong below) of Open Doors USA, which is based in California, took for themselves more money (source) than is earned by the Governor of California, whose $210,000 annual salary makes him the highest-paid Governor in USA.
| | | | | |
| --- | --- | --- | --- | --- |
| | | | Title | Took in 2019 |
| David Curry | | | Chief Executive Officer | $306,100 |
| Tim Muret | | | Chief Communications Officer | $245,644 |
| Michael Wong | | | Chief Financial Officer | $228,665 |
| Jeff Taylor | | | Chief of Staff | $188,041 |
| Brian Orme | | | Senior Director of Content | $177,412 |
| Jesse Teasley | | | Senior Director of IT | $175,642 |
| Sasha Tyan | | | Director FP&A | $151,445 |
| Jonathan Huang | | | Creative Director | $144,349 |
| Sally Rae | | | Secretary/Executive Assistant | $103,387 |
| | | | | |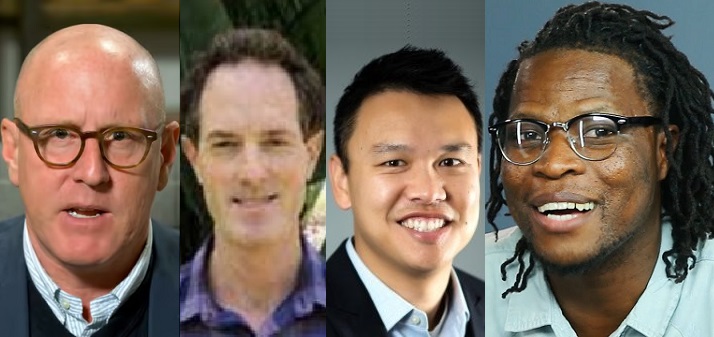 (Left to right: David Curry, Tim Muret, Michael Wong, Moses Masitha)
5. The current leadership of Open Doors USA lacks credibility and experience.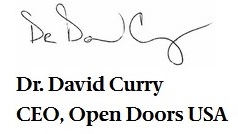 Open Doors USA introduces its CEO as, "Prior to coming to Open Doors, Curry served as CEO and president at Christian organizations that serve homeless and neglected children in several countries, including India and Peru" (source). When hired in 2013, Curry was introduced as having spent "eight years" as "CEO of The Rescue Mission of Tacoma, WA," a homeless shelter, so the "serve homeless" part above is true. Prior to that, however, he founded and ran the "Foundation for Grace, an organization which provided leadership and management training to non-profit groups" (source), which is at least one step removed from having served "neglected children." Curry's highest earned degree is a bachelors but he signs his name as "Dr. David Curry" (photo). Neither Curry nor Muret, a marketer, nor Wong, a financier, have missions experience, and none of them were chosen by Brother Andrew.
6. Ties to money override sexual assaults.
David Curry recently hired Moses Masitha as Director of Donor Relations, well aware of his sexual assaults but also ties to a megachurch donor base.
7. The board of directors of Open Doors USA lacks credibility.
The About Us page of Open Doors USA's website lists seven board directors besides David Curry - Bruce Dingman, Francesca Fajinmi, Tim Kachuriak, Michelle Sanchez, Nathaniel Spoelman, Roger Spoelman, Daisy Szabo - without presenting any information about any of them. Bruce Dingman is a corporate headhunter, Francesca Fajinmi is a corporate financier, Tim Kachuriak is a corporate fundraiser, Nathaniel Spoelman is a corporate investor, Roger Spoelman and Daisy Szabo are corporate executives. All of them have expertise in money, none in ministry or missions.
8. Open Doors USA has betrayed its core values.
The same About Us page declares as "Core Values": "We are persecuted-church driven... We live and work by faith... We are motivated solely for the glory of God." Open Doors USA's activities, decisions, salaries, and Board composition indicate that its leaders now live for, work for, are driven by, and motivated by money.
Solutions
1. Stop showcasing to generate donations the name and reputation of Brother Andrew, whose values and example are no longer being reflected by Open Doors USA.
2. Display the World Watch List as before, without a fee or strings attached.
3. At least halve all salaries above.
4. Disclose to donors that most of their donations will be spent in USA, not "to send financial support or Bibles to Christians living in hostile regions."
5. Before his promotion to heaven, have Brother Andrew purge Open Doors USA, including its Board, and install people of his choice. (Update: Brother Andrew was promoted to heaven on September 27, 2022.)
Visitor Emails
"I've read quite a bit on your website, especially about the different missionary organizations. I have been aware of the problems with VOM USA and Gospel for Asia for a few years, but not about Open Doors. I'm very saddened learning about the lack of self-sacrifice and misappropriation of funds. I have been a supporter of Open Doors for 35 years and their ministry has certainly had an impact on me. It seems that the love of money ruins much of God's work. I'm very hesitant now to give any money to Open Doors. Do you know anything about VOM Canada...? Thanks on forehand for your response, Leonard"
"We have supported Open Doors for several years and were stunned to read your critique. We can no longer support them in good conscience, or Ethnos 360, or VOM. So what missions have you reviewed that *are* worthy of support? Thank you, in Christ, Jack"
"Hello, These past couple years have been heartbreaking as well as revelatory for me in so many ways. God has made me a giver and given me a heart for persecuted Christians from way back in my early adult years. I first started giving to missions for the persecuted through Jesus to the Communist World after reading Richard Wurmbrand's book Tortured for Christ. I have donated to many missionary organizations over the years including Open Doors. I had already heard about what had happened with Voice of the Martyrs and read Michael Wurmbrand's letter and stopped supporting them. But now I am seeing that Open Doors has fallen also. I can't even express the extreme sorrow and pain all these things have caused.....but I know that at one time these organizations founded by these two godly men DID do what they were supposed to do. It surely is a sign to me that we are in the latter days as evil is running rampant and lies abound in so many areas of the church as well as the secular world. I feel that I have been purposely led to your rather obscure website as I had to cancel my credit card due to fraudulent use and was in the process of reactivation of some recurring donations. Open Doors was on that list. I loved Brother Andrew's heart after reading his book God's Smuggler years ago and became a supporter and even doubled that after having to cross Voice of the Martyrs off the list. I still find myself compelled to give to mission work as long as I am able to do so. Might not be long as I am retired after a 30 year career and pretty outspoken about my stand on what is occurring in our country and am refusing the vaccine as well....so my paycheck could be in jeopardy at some point. So be it. But as long as it's still coming in I want to help spread the gospel and help the persecuted. Thank you for what you are doing and I hope a thorough exploration of what you have compiled will help me determine where to donate. I am still gut punched by my ignorance as to the changes that had been occurring in these two namesake organizations. I can only imagine Michael Wurmbrand and Brother Andrew's pain. But God knows the heart of these men.....and He knows the heart of this poor ignorant giver. That matters to me. Sincerely, Cynthia"
"Hi, I just had to drop you a line to say how much I appreciate your ministry. Many year ago I became aware of problems with Wycliffe Bible Translators twisting the Scriptures in order to be accepted in none Christian countries. Also, years ago, I read a YWAM book. Immediately I could see it was unbiblical and was astounded that any Christian would not be able to discern this for themselves. (Yet I have friends who are immersed in serving at YWAM.) Regarding Voice of the Martyrs, I only became aware of how evil this ministry had become a few months ago .... Your report on Open Doors was especially appreciated, as we do support them and I did not know how to check them out. When I read your page exposing Open Doors, my heart sank. How tragic that so many ministries go the way of the devil. Yes, there are still good people (naively) working in these organisations and they do some good work, but if the organisation does not focus on Jesus Christ and is not committed to truth, they will be captured by our enemy the devil (1 Pet 5:8). I've sent your link to our pastor, who stopped supporting VOM .... It seems to me that these ministries start well, but as their support base increases, along with funds, and they get new leaders on board who have more money-making management skills than the Spirit of God and focusing on Christ our Lord, then they go into rapid decline (spiritually). Thank you for speaking out. Blessings, Zoe"
"I was very disheartened and sickened to read the reports about VOM and Open Doors. I don't live in the USA, but I have been supporting them for decades. For several months now I have not sent them any more donations. I had always considered them to be above reproach... The purpose of my email is to request advice about what international charities I should now consider supporting, mainly those who support the persecuted church or those which minister particularly to Christians. I do support several charities, but have always given top priority to the persecuted church and I want that to continue. Thank you. Regards, Arnold"
"I am dismayed at reading the information on your website. Of course, I have been following some of this in the news, but apparently missed the information about Open Doors. How does a person who believes in the mission of Brother Andrew donate, in all good conscience, at this point? Victoria"
"Greetings! I read the ratings and was dismayed to find I'd been giving to Open Doors and VOM and thought YWAM was a good organization. How can I support WP or discern which missions that have not been infiltrated by wolves? Dawn"