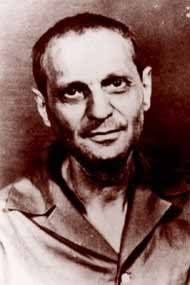 Voice of the Martyrs was founded by Richard Wurmbrand (right) in 1967. A Romanian Jew and Christian pastor, Richard Wurmbrand withstood 14 years of horrific torture for his faith by the Romanian Communists before being ransomed out to the United States, where he founded the Voice of the Martyrs.
Today, Voice of the Martyrs organizations also exist in Australia, Belgium, Canada, Chile, Czech Republic, Finland, Mexico, New Zealand, Poland, Portugal, South Africa and South Korea, raising money from Christians to be used to support and equip, including via Bible placement, persecuted Christians in over 50 countries. Voice of the Martyrs USA is the largest, collecting over $50 million annually.
Strength
Voice of the Martyrs supports and equips some of the most persecuted Christians in the world, including in North Korea and the closed countries of the Muslim Middle East.
Weaknesses
1. Voice of the Martyrs USA wastes money. The modest white warehouse below is the former headquarters of Voice of the Martyrs USA in Bartlesville, Oklahoma.

Below is Voice of the Martyrs USA's new headquarters, still in Bartlesville, custom-built for $28 million taken from general donations. God's money collected for the world's poorest and most persecuted members of the Body of Christ was used by those who collected it to build a gleaming $28,000,000 office building for Americans.

2. The leadership of Voice of the Martyrs USA lacks legitimacy. Richard Wurmbrand retired in 1992 and died in 2001. His successor, Tom White, was a pedophile who committed suicide in 2012 at the Voice of the Martyrs compound when the police was about to arrest him for having sexually abused a 10-year old girl.
Since pedophiles rarely abuse only one child, Michael Wurmbrand, the only child of Richard and Sabine Wurmbrand and who had been serving Voice of the Martyrs from California, called for an independent investigation to assure that Tom White hadn't abused any other child during his frequent trips to Voice of the Martyrs' facilities, including orphanages, abroad.
In response, Voice of the Martyrs fired Michael Wurmbrand, now in his 70s, who had co-founded Voice of the Martyrs with his parents, and offered him money to keep quiet. Michael Wurmbrand rejected the money and instead published an open letter that repeats his call for an independent investigation and asks donors to stop supporting Voice of the Martyrs (read his letter).
The current president of Voice of the Martyrs USA is the former mayor of Bartlesville, the small town in which Voice of the Martyrs USA is located, and was hired by Voice of the Martyrs USA despite not having any ministry experience, missionary experience or Christian education.
3. Voice of the Martyrs (VOM) is mismanaged. For many years, Isaac Oluwole Newton-Wusu, the head of Voice of the Christian Martyrs (VOCM) Nigeria, has been raping and impregnating orphan girls at the VOM-financed Stephens Children Home in Abeokuta and then forcing them to kill their babies via abortions. Despite repeatedly being informed of these and other crimes by Isaac Oluwole Newton-Wusu, VOM continued to finance VOCM Nigeria. When confronted by a determined American church (watch their video) in 2016, VOM neither reported Isaac Oluwole Newton-Wusu to the Nigerian police nor took measures to protect his alleged victims or the other girls at the VOM-financed orphanage. Instead, VOM handed over $100,000 worth of land, buildings and vehicles to quietly and quickly sever ties with VOCM (click here).
4. Some Voice of the Martyrs projects and practices prioritize revenue generation, jeopardize persecuted Christians, and are unbiblical. Bibles Unbound for China jeopardizes Chinese Christians who print the Bible and who receive them from abroad. Michael Wurmbrand states that Voice of the Martyrs incentivizes its fundraisers by letting them keep for themselves a proportion of the money they raise from donors. God executed Ananias and Sapphira for keeping back a portion of their own money.* What awaits those who keep back a portion of others' money given to God?
5. Voice of the Martyrs has veered into ecumenism, away from the True Gospel.
Solutions
1. Do not allow fundraisers to keep a portion of the money they raise or require them to inform the donors about it.
2. Heed Michael Wurmbrand's call for an independent investigator to retrace Tom White's travels during the two years that preceded his suicide, interview every child he was alone with, and repeat for preceding years if additional victims emerge.
3. Bring Isaac Oluwole Newton-Wusu to justice, identify and provide care for all of his victims.
4. Heed Rachael Denhollander on how to deal with cases of sexual abuse.
5. Sell the new headquarters building, give the $28,000,000 to those for whom the money was donated, and move back into the modest warehouse.
6. Replace the Board and the top executives with seasoned servant leaders from the frontline who suffered for Jesus and will remain focused on serving those who are suffering for Him today.
7. Emulate the financing practices of HeartCry.
8. Renounce ecumenism and return to the True Gospel.
* But a certain man named Ananias, with Sapphira his wife, sold a possession. And he kept back part of the proceeds, his wife also being aware of it, and brought a certain part and laid it at the apostles' feet. But Peter said, "Ananias, why has Satan filled your heart to lie to the Holy Spirit and keep back part of the price of the land for yourself? While it remained, was it not your own? And after it was sold, was it not in your own control? Why have you conceived this thing in your heart? You have not lied to men but to God." Then Ananias, hearing these words, fell down and breathed his last. So great fear came upon all those who heard these things. And the young men arose and wrapped him up, carried him out, and buried him. Now it was about three hours later when his wife came in, not knowing what had happened. And Peter answered her, "Tell me whether you sold the land for so much?" She said, "Yes, for so much." Then Peter said to her, "How is it that you have agreed together to test the Spirit of the Lord? Look, the feet of those who have buried your husband are at the door, and they will carry you out." Then immediately she fell down at his feet and breathed her last. And the young men came in and found her dead, and carrying her out, buried her by her husband. So great fear came upon all the church and upon all who heard these things. (Acts 5:1-11)