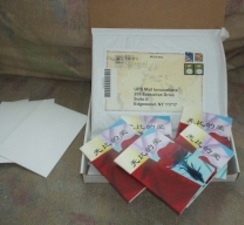 Bibles Unbound is operated by Voice of the Martyrs. For a payment of $30, Bibles Unbound allows Christians outside China to send via the postal service 5 Chinese New Testaments to house church Christians in China.
Bibles Unbound's New Testaments are printed clandestinely inside China by the underground house church Christians, smuggled out of China and sent across the world so that they can then be mailed back to other house church Christians inside China.
Strengths
• Bibles Unbound makes it easy for the senders to participate in overseas missions and therefore raises awareness.
• Bibles Unbound generates revenues for Voice of the Martyrs' other ministries.
Weaknesses
• Printing New Testaments in China and then smuggling them out bear avoidable risks for the underground Chinese Christians who print and smuggle them out.
• Mailing the New Testaments back to China risks detection and confiscation by China's customs.
• Chinese believers in possession of Bibles that are not printed by Amity Printing bear greater risks of being persecuted than those who possess identical Bibles but printed by Amity Printing.
• If the $30 were simply transferred to China's underground house church Christians, they can go to any of the 55,000 Three Self churches in China and buy 20 entire Bibles ($1.50 per Bible) instead of just 5 New Testaments ($30 / 5 New Testaments = $6 per New Testament).
• The revenue from Bibles Unbound that Voice of the Martyrs uses to fund its other ministries are warranted, but the money to ship the Bibles across the world twice is wasted, and the avoidable risks mentioned above remain.
Opportunity
• The concept of sending Bibles to China should be applied to Bibles that are unavailable in China. Presently, Amity Printing prints and sells inside China the NIV, NRSV and KJV English translations but not the New King James Version (NKJV), which includes the only modern English translation of the original Textus Receptus Greek New Testament.
• There is an immediate opportunity for Western Christians to invite Chinese Christians to request NKJV Bibles to be sent to them. Chinese Christians capable of reading the NKJV typically even have the money to reimburse the costs to buy and send via mail.
2012 Update
Voice of the Martyrs was emailed to confirm claims that it has stopped shipping Bibles out from and back into China. To date, no confirmation has been received.