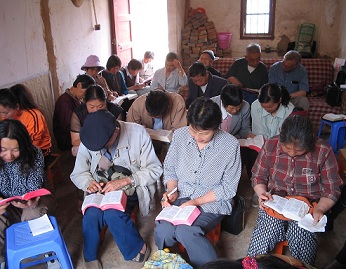 A house church in China is simply a church - ekklesia, a Greek word that means a gathering or assembly - of Christians who gather in a home, warehouse or any place other than the Three Self church.
After decades of persecuting house churches of any size, the Chinese Communist Party during the rule of Hu Jintao began to allow house churches to operate as long as they had fewer than 15 members. Once that number is reached, the house church was required to register as a Three Self church.
Some house churches complied to facilitate renting space to gather more people. Most house churches, however, refused to come under the authority of the unbiblical Three Self church and instead split into many small house churches, each with fewer than 15 members (this limit accelerated the penetration of the Gospel into more homes).
If you are considering serving as a missionary to China, be advised that while the Chinese government tolerates foreigners participating in Three Self churches, it does not tolerate foreigners participating in house churches. The total surveillance program currently being rolled out across China (see Christian persecution in China) will track the movement of every person, Chinese or foreigner. If your participation in a house church is discovered, you may simply be deported but the house church members will face heavy fines (see underground church) and/or imprisonment. To protect the house churches, many Western missionaries already have shifted their focus to the Three Self churches.
If you feel called to continue to minister to the house churches, it is highly recommended that you do not also minister at Three Self churches, which are surveiled by face recognition-enabling CCTV cameras. Once you are identified as a Christian, it will raise the risk of your house church being discovered, in which case the leaders of the Three Self church also will be persecuted for collaborating with a foreigner who clandestinely works with house churches.