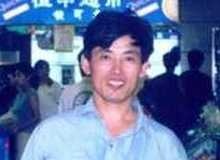 China's underground house church networks engage in secret Bible printing, warehousing and distribution inside China that can be supported for $1.80 per Bible delivered.
Advantages
•  $1.80 is cost-competitive with the $1.50 to $1.90 (9.5 to 12 Yuan) Amity Bibles that are sold at Three Self churches, and one-third of the $5 that Western Bible organizations require to deliver one Bible from Amity Printing to a house church Christian in China.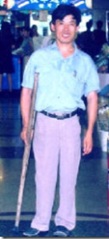 •  For house church networks that do not trust the Chinese Communist Party and wish to remain underground, secret Bible printing affords the greatest control and flexibility in trying to supply Bibles to their congregants.
Disadvantages
•  Chinese Christians who are caught printing, warehousing or transporting the Bibles "illegally" printed inside China face prison sentences. Wang Zaiqing (above and right), for example, was arrested in 2006 and served 2 years for clandestine Bible printing.
•  Owning clandestinely-printed Bibles also bears some risks.
Should secret Bible printing inside China continue to be supported?
Are the risks above worth tripling the flow of Bibles to the house church Christians for the same amount of money? And do these risks lead to avoidable suffering or badges of honor for having been counted worthy to suffer for Christ? (In the photo, Wang Zaiqing does not look unhappy.)
These questions would become moot under any of the following three scenarios:
1. Chinese Communist Party lifts its antiquated prohibition against selling Amity-printed Bibles to Chinese buyers other than the Three Self churches.
2. Western Bible organizations are able to buy Bibles from Amity printing at the same price as Three Self churches and distribute those Bibles to house church Christians.
3. Chinese house church Christians get used to distributing Bibles that they can now buy at Three Self churches without the past risks.