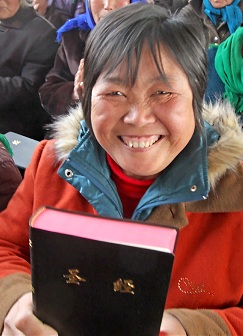 Why do Chinese Bibles that retail for $1.50-1.90 at Three Self churches triple in price $5 when foreign Christians buy them to give to the Chinese Christians?
According to the CEO of Bible Society NSW, which distributes Bibles to Chinese Christians:
"Because we are foreigners we pay the full cost of the Bible instead of the subsidised price. Thus in fact, paying the subsidy for the paper and then paying a price as though there was no subsidy for the paper. Our negotiations to fix this anomaly have not reached success at this point."
Bible Society NSW and American Bible Society are members of United Bible Societies, which donates the paper that Amity Printing uses to print Chinese Bibles for the Chinese Christians.
When foreign Christians want to buy those Bibles to give them to Chinese Christians, China's Communist Party, through its Three Self Patriotic Movement and China Christian Council (CCC) makes them pay again for the paper that they - the foreign Christians - originally donated. (Paper accounts for the majority of the cost of a Bible.)
Typically, when the citizens of one country donate to help the citizens of another country, the government of the receiving country appreciates the foreign donors. The Chinese Communist Party double charging foreign donors to allow them to give Bibles to Chinese Christians - one of the five officially "recognized and protected" religious groups in China - exposes the Chinese Communist Party's thinly-veiled and continuing persecution of Christians.
2012 Update:
New groups not associated with UBS are beginning to report now being able to purchase Amity-printed Bibles in bulk through intermediaries inside China at about their retail prices ($1.50 to $1.90) and distributing them legally to poor Chinese Christians, albeit at only Three Self churches.
Presently, their total cost per Bible delivered is about $3. They are optimizing operations and ramping up volume to lower this further. If and when supporter(s) arise to cover their operational costs, they hope to announce and legally deliver one Amity-printed, risk-free Bible to a poor Chinese Christian for $1.50-$1.90. For more information on their progress, please contact us.
At $5 per Bible, if the number of Christians in China grows from the present 150 million to 400 million over the next two decades (5% annual growth rate), $2 billion ($5 x 400 million Christians) donated over the next two decade by Christians in the West and in China will meet China's Bible needs. At $1.50, this figure would drop to $600 million. For more on this, please click here.
What was once a political barrier is becoming a predominantly economic hurdle against the backdrop of rising wealth among the churches in China, the more pressing shortage of Bible teachers in China, and the unprecedented opportunity to evangelize Chinese students studying in the West.