Ethnos360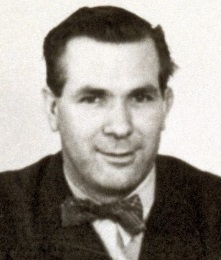 Ethnos360 was founded as the New Tribes Mission in 1942 by Paul Fleming (photo), a missionary who had returned to USA from southeast Asia due to poor health, along with Bob Williams, a missionary to Indonesia who left when the Japanese invaded in World War II, Lance Latham, a Chicago pastor, and Cecil Dye.
Dye was martyred in 1943 along with four other New Tribes Mission missionaries by Bolivia's Ayorés tribe while making contact with them. Williams returned to Indonesia when the war ended in 1945, and Fleming died in a plane crash in 1950 while taking a group of New Tribes Mission missionaries to the field.
Today, about 3,000 Ethnos360 missionaries serve in about 20 countries, including Brazil, Bolivia, Burkina Faso, Colombia, Greenland (Denmark), Guinea, Ivory Coast, Liberia, Mexico, Mozambique, Panama, Papua New Guinea, Paraguay, Philippines, Senegal, Tanzania, Thailand, and annually raise about $60 million, which flows through Ethnos360.
Strength
Ethnos360 targets unreached people groups and teaches its missionaries to alphabetize unwritten languages and then translate the Bible using the newly created alphabet. Many Ethnos360 missionaries have a genuine desire to take the Gospel to the ends of the earth.
Weaknesses
For decades, the leaders of Ethnos360 / New Tribes Mission, both local and at its US headquarters, covered up sexual abuses, as well as spiritual, emotional and physical abuses, perpetrated at its boarding schools against the children of its missionaries while they were out sharing the Gospel, until a survivors' blog (www.fandaeagles.com) forced it to commission an outside investigation of its Fanda boarding school in Senegal by GRACE (Godly Response to Abuse in the Christian Environment - www.netgrace.org).
Fifty-two percent of the former students who received GRACE's initial survey responded, and of them, 55% stated that they were sexually, spiritually, physically and/or emotionally abused and/or witnessed such abuses at Fanda boarding school. Many gave detailed testimonies in the ensuing interviews.
In 2010, GRACE issued its REPORT, which detailed some of the abuses committed at Fanda. For example, one of the perpetrators often talked with the children about his close walk with the Lord while sexually abusing them, and told them on repeated occasions that their missionary parents didn't love them or they wouldn't have sent them away to a boarding school. But he on the other hand loved them very much (page 18).
When the children reported the abuses to those in authority at their boarding school, those in authority repeatedly ordered them not to tell their parents about the abuses since knowing about them would hinder their parents' work and result in Africans going to hell (page 10). When their missionary parents eventually did find out about the abuses and alerted New Tribes Mission's headquarters in USA, its leaders silenced them and covered up the abuses.
Below are some of the statements (pages 24 and 25) from the abused children, now adults, that hint at how the abuses and the cover up affected their faith:
"Because of NTM (New Tribes Mission), I absolutely DESPISE anybody who calls themselves a christian."

"[I]... have no desire to share the gospel. [My]... experience with Fanda has destroyed any spirituality that I had with Christianity."

"I hated the God of Fanda because God meant legalism and hypocrisy."

"At age 13, I was so disillusioned with Christianity that I preferred hell to that f---ing school. I was committed to following Satan. I saw the native people worshiping the devil (witchcraft) and they were getting what they needed..."

"Adults were God at Fanda, and God was cruel."

"For so long [she] thought life was a chess board. God was black and she was white. When she was white, God would be black. She thought God hated her, but she always loved God."
GRACE named and identified the perpetrators of sexual abuse against the children at Fanda boarding school and those who led or participated in the cover up (as of 2010) as:
RON ABRAM - Active Member of New Tribes Mission-USA
MARK ADAMS - Former Member of New Tribes Mission-USA
BOB AMES - Former Member of New Tribes Mission-USA
DONNA BEACH - Former Member of New Tribes Mission-USA
DAVID BROOKS - Former Member of New Tribes Mission-USA
PHIL GATES - Former Member of New Tribes Mission-USA
REGINALDO GOULART - Former Member of New Tribes Mission-Brazil
NORM LIVINGSTONE - Former Member of New Tribes Mission-USA
RODNEY MCCRAY - Former Member of New Tribes Mission-USA
CHET PLIMPTON - Active Member of New Tribes Mission-USA
BILL POORTVLIET - Current Member of New Tribes Mission-USA
FRANK STOTTLEMYER - Non-Active Member of New Tribes Mission-USA
DEAN VAN VLIET - Non-Active Member of New Tribes Mission-USA
JOHN WARNKEN - Active Member of New Tribes Mission-USA
MEL WYMA - Non-Active Member of New Tribes Mission-USA
GRACE recommended actions to be taken or pursued against all perpetrators and those who led or participated in the cover up. GRACE also recommended thorough independent investigations of the allegations of child abuses at New Tribes Mission's other locations around the world. (New Tribes Mission's internal documents showed that in 2002, there was already a backlog of 80 or 90 child abuse allegations worldwide awaiting investigation, including 30 cases at its other schools. Moreover, numerous people had approached GRACE during its investigation and shared that they had suffered sexual and/or other abuses at other boarding schools operated by New Tribes Mission.) GRACE also made other recommendations, including the establishment of a perpetual fund to continue to pay for the therapy that will be needed by the victims, as well as their parents and children.
To date, everyone named in the GRACE report and listed above remains on the loose. None of them have been prosecuted, let alone imprisoned. New Tribes Mission also rejected calls by the abuse victims to have GRACE investigate the allegations of abuse at New Tribes Mission's other locations around the world, and announced that allegations of the abuses at the other locations will be investigated by IHART (Independent Historical Abuse Review Team), which it claimed was another "independent" investigative organization like GRACE.
What is IHART?
IHART turned out to be a team created by New Tribes Mission that reports only to its leaders. Run by a lawyer who specializes in defending Christian organizations from sexual abuse lawsuits, IHART has been "investigating" abuses at the other New Tribes Mission schools, including in Brazil, Panama, Bolivia and Paraguay without informing, let alone interviewing, all of the victims. IHART soon stopped naming the sexual abusers that it still found. Then, when sexual abusers continued to be found at every location it looked into, IHART stopped revealing even their numbers, and changed its name from Independent Historical "Abuse" Review Team to Independent Historical "Allegation" Review Team.
In 2013, a New Tribes Mission missionary to Brazil named Warren Scott Kennell was arrested after posting on a child pornography website a picture of himself sexually abusing a Brazilian child. Police eventually found over 940 images of child pornography on his hard drive. In 2014, he was sentenced to 58 years in a US federal prison.
In 2017, New Tribes Mission changed its name to Ethnos360.
Solutions
1. Shut down IHART, whose whitewashing is only re-traumatizing the victims, and recommission GRACE to investigate with credible independence the allegations of abuse at all Ethnos360 / New Tribes Mission schools around the world.
2. As GRACE identifies the perpetrators and their victims, report the perpetrators to law enforcement for prosecution, and replenish the depleted perpetual fund so that all victims' long term therapy and other medical costs can be covered. As GRACE also recommended, set up an arbitration arrangement to pay damages to all victims. If all Ethnos360's assets need to be sold to make these payments, sell them. God does not honor, let alone need, an organization that soils His holy name (video below) while sexually abusing His children.
3. Everyone at Ethnos360 / New Tribes Mission who knew about the abuses and did not intervene to stop them must kneel in sackcloth, ashes and tears of repentance in front of the victims, their parents and God, confess their sins, beg for forgiveness, and then resign.