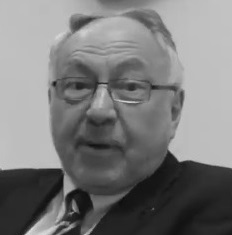 SAT-7 is a network of Middle East-based satellite television stations founded in 1995 by "Dr. Terence Ascott" (right), an Englishman whose highest earned degree is a bachelor's in civil engineering; according to SAT-7, he became an honorary doctor in 2011.
Strength
SAT-7 broadcasts in Arabic, Persian and Turkish in 25 countries in the Middle East and North Africa, and has expanded to reach most of the countries in Europe. SAT-7 could be used to evangelize the Muslims in the Middle East.
Weaknesses
While SAT-7 bills itself as "interdenominational," "Christian," and carefully aims its fundraising at Protestants, it is at best a Roman Catholic and Orthodox-dominated ecumenical (https://sat7.org/mission-and-values) group that thus far has been successful in drawing money from Protestants to fund its Roman Catholic and Orthodox programs.
SAT-7 identifies (as of 2019) the religious affiliations of six of the members of the "council that sets the goals and core policies of SAT-7." Of the six, two (Paul Sayah and Youssef Soueif) are Maronites, which is a branch of Roman Catholicism, one is Armenian Orthodox (Sebouh Sarkissian), one is Coptic Orthodox (Marcos), and one is Anglican (Bill Schwartz Obe): https://sat7.org/organisation-structure/the-international-council
In 2011, Terence Ascott admitted, "We're largely funded by Protestants and get a significant amount from Catholics": https://www.huffpost.com/entry/sat-7-christian-television_b_960056
In 2012, Ascott referred to the Coptic patriarch Shenouda III as "His Holiness": https://www.mnnonline.org/news/egypts-pope-has-been-enthroned/
When Francis, the head of Roman Catholicism visited Egypt in 2017, SAT-7 gushed about him and added, "SAT-7 has also acquired from Rome two documentaries about Pope Francis, Francis: The People's Pope and Pope Francis In His Own Words. The SAT-7 team will dub these documentaries and air them on SAT-7 ARABIC in the five days following the Pope's visit": https://www.sat7uk.org/pope-francis-visits-egypt-important-egyptians-not-christians/
In terms of finances, in 2017 SAT-7 is reported to have spent 10.6% of its total revenues on fundraising and an additional 2.0% of its total revenues to compensate just one employee, Rex Rogers, its president, which means the compensation for its CEO is likely to have been higher than 2% of total revenues: https://www.charitynavigator.org/index.cfm?bay=search.summary&orgid=5912
Solution
Replace the board and staff with Bible-based Christians and broadcast the True Gospel. Otherwise, stop claiming to be "interdenominational" and "Christian" to get money from Protestants to broadcast Roman Catholic and Orthodox content.