Free Burma Rangers

When war approaches, most missionaries are among the first to leave, but not Free Burma Rangers. In fact, Free Burma Rangers go to areas where authoritarian governments and Islamic terrorists commit genocide against Christians and others, to evacuate them, provide first aid, share the Gospel, and record and forward to the media the atrocities being committed. Founded and led by an American Christian family, Free Burma Rangers currently operate in Burma, Iraq, Syria, and Sudan.
Background
From the late 19th to the mid 20th century, the region that includes today's Burma, also called Myanmar, was a British colony. During World War II, the Buddhist Bamar people of the central and southern plains of Burma sided with the Japanese, while the ethnic minority hill tribes, many of which are Christian and live in Burma's mountains to the north, east and west, sided with the British.
World War II ended in 1945 and Burma gained independence from Britain in 1948 under the terms of the 1947 Panglong Agreement, which was signed by representatives of the Bamar people, as well as the Chin, Kachin and Shan hill tribes, and granted "full autonomy" to the hill tribes. For the majority Christian Kachin tribe, the agreement went even further and stated, "establishing a separate Kachin State ... it is agreed that such a State is desirable."
In 1962, the Buddhist leaders of the Burmese military staged a coup, broke the Panglong Agreement, declared Buddhism the official religion of even the hill tribes, invaded and began building Buddhist monasteries in them. When the (Christian) hill tribe villages resisted, the Burmese military began to wipe them out using its strategy of "Four Cuts": (1) cut off communication into the village; (2) cut off food, medicine and other supplies from reaching the village; (3) cut off people from entering the village; (4) cut off news of the 'operation' at the village from reaching the outside world.
In response, the hill tribes, including the majority Christian Kachin people and the Karen people, who have a significant Christian minority, formed resistance guerillas, who have the advantage of knowing their homeland's terrain but are no match for the 500,000 strong, heavily-armed military of Burma, which spends 24% of its national budget on defense (US spends 15%), not to fight other nations but to push out and exterminate its own religious minorities in order to expand Buddhist rule and territory. It should be noted that after sealing off a (Christian) village to be exterminated as above, the Burmese military attacks the villagers, including women and children, with not only infantry but also with artillery, missiles from helicopter gunships provided by Russia, and bombs from jet fighters provided by China. To date, the Burma Army has wiped out more than 4,000 villages in Burma.
In 1997, David Eubank, a former U.S. Army Ranger and Special Forces officer and the son of missionaries, founded Free Burma Rangers with his wife Karen and volunteers from the hill tribes to record the atrocities being committed by the Burma Army, evacuate through the jungle the villagers being attacked, provide (emergency medical) care to the evacuees, share the Gospel, and then began to train others to do so.
Today, there are more than 80 Free Burma Rangers teams doing just that throughout the hills and mountains of Burma. Each Free Burma Rangers team is comprised of a team leader, a medic, a photographer, a videographer, and a "good life counselor" - i.e., evangelist. In recent years, Free Burma Rangers have expanded outside Burma to rescue Christians and other civilians being attacked by Islamic terrorists in northern Iraq, Syria, and Sudan.
Is Free Burma Rangers a Christian organization?
Officially, Free Burma Rangers is a humanitarian organization that helps, trains, and is staffed by people of all religions. In reality, a majority of the staff and many of those helped are Christians, and some of those who are trained become Christians.
To what extent does Free Burma Rangers share the Gospel?
During its training camps, which last 2 to 3 months, the Gospel is shared everyday, to the extent that the atheists among the staff complain about Christianity being pushed on the trainees. The trainees are not required to convert to Christianity, but about 4% of each trainee cohort choose to get baptized before graduation (The proportion of Christians in each cohort is higher, as many trainees come from Christian hill tribes and are already Christian). The Gospel is also shared in the de facto vacation Bible school sessions held for the children among the evacuees, and as mentioned, all Free Burma Rangers teams include an evangelist.
Strengths
1. Free Burma Rangers rescues (Christian) civilians and shares the Gospel in the genocidal combat zones of Iraq, Syria, Sudan and the jungles of Burma.
2. David Eubank leads from the front. In Iraq, he is the first to run into ISIS sniper fire zones to rescue stranded civilians (watch the video below).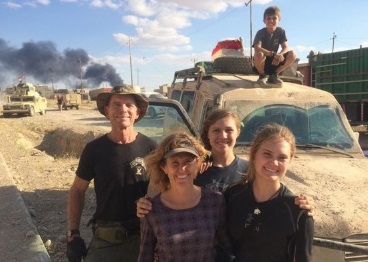 3. His wife and three children are just behind him. They deploy with him wherever he deploys (photo), to drive the ambulance that hauls wounded civilians away from the combat zone, provide care for those evacuated, hold de facto vacation Bible school sessions for the evacuated children, etc. The Eubank children grew up in Burma, began leading supply mule trains through the jungle from horseback as toddlers, have been serving alongside their parents ever since then, and are already battle-hardened missionaries.
4. Free Burma Rangers do not create "rice Christians" who just want to keep receiving material support. The operational backbone of the teams that deploy to Iraq, Syria and Sudan - the medics and the videographers - are Burma's hill tribesmen who risk their lives to help others as they have been helped.
5. Free Burma Rangers does not have staff or a headquarters in USA, its "development" - i.e., marketing - spend is zero, and 100% of the donations received is spent on serving the evacuees and trainees. All Free Burma Rangers staff are unpaid volunteers.
Weaknesses
1. Most of the evidences of the genocidal atrocities against Christians photographed, filmed and sent to the media by Free Burma Rangers are being ignored by the media, which is becoming increasingly anti-Christian.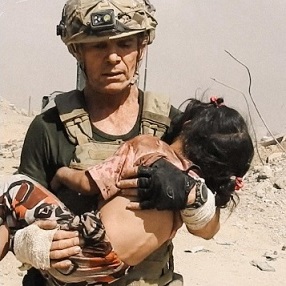 2. Every time David Eubank runs into a sniper fire zone to rescue civilians (photo), he could be promoted to heaven, and given his central role at Free Burma Rangers, leave a leadership vacuum that would be difficult to fill.
3. Free Burma Rangers is underfunded. Its 2019 expenditures were only $2.7 million and exceeded donations received.
Solutions
1. David Eubank has more than proven his God-given courage and frontline leadership. Now in his 60s, he should consider stepping back from the sniper fire zones to focus on building up leaders and local organizations so that instead of having to decide between simultaneous requests for help from different countries and Free Burma Rangers teams having to fly to Iraq, Sudan and Syria from Burma, there can be Free Iraq Rangers, Free Sudan Rangers, and Free Syria Rangers, each led by strong Christians.
2. More Western Christians, including both prayer warriors and battlefield warriors, should join David in building up such organizations, especially until they can be led by indigenous local leaders. In particular, if you are a Christian and a current or former U.S. Army medic, chaplain or soldier who is demoralized serving or at the prospect of re-enlisting in a force that now protects sexual deviancy and prohibits sharing the Gospel, here is one that protects the world's most persecuted (Christian) civilians and promotes sharing the Gospel.
3. Far more funds need to flow to both Free Burma Rangers and its volunteers so that 100% of the donations to Free Burma Rangers (website) can continue to be spent on those being rescued and trained.
4. Christians around the world need to pray for and share on social media, forward to media outlets and political leaders the evidences of atrocities against (Christian) villages filmed by Free Burma Rangers. The government of Burma has been adept at playing China off against USA, which has sent military advisers to Burma to train its troops as it vies against China for political clout in Burma. Governments around the world need to pressure the government of Burma to stop its genocide, and grant statehood to the majority Christian Kachin people in accordance with the 1947 Panglong Agreement.
This video about the Free Burma Rangers is a must watch.