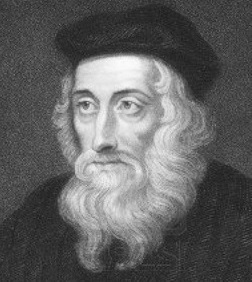 Wycliffe Associates is a Bible translator but it isn't Wycliffe USA, even though both share the same headquarters building in Orlando, Florida. Wycliffe Associates was a member of Wycliffe Bible Translators, also known as Wycliffe Global Alliance, but left it in 2016 to protest the alliance's Muslim-appeasing translations that blaspheme the Lord's name (see below).
Wycliffe Associates and other "Wycliffe" Bible translators are named after John Wycliffe (right), the 14th century Englishman who was the first to translate the Bible into English and was condemned for it.*
Wycliffe Associates was founded in 1967 by Bill Butler, Dale Kietzman and Rudy Renfer, three men who became frustrated with the slow pace of Bible translations and surmised that translators with Wycliffe USA were spending too much time on tasks that took them away from their main work. They founded Wycliffe Associates to allow the Bible translators to concentrate on translating the Bible and let other Christians volunteer to build buildings and runways, provide accounting, technology and other support services.
Surmising this model of Bible translation to be still too slow, Wycliffe Associates overhauled its model in 2014. Instead of sending and supporting Western Bible translators to learn the local language and then sequentially translate the 66 books of the Bible, Wycliffe Associates began offering technical, educational and financial support to the target language's indigenous churches so that teams of their members can translate the Bible into their language using just pen and paper. Wycliffe Associates trained them, provided them with Bibles in other languages that they also understood, assigned each of them to different portions of the Bible, and asked them to translate simultaneously. Their completed work was quality-controlled and then word processed to create digital copies, which were then printed and distributed.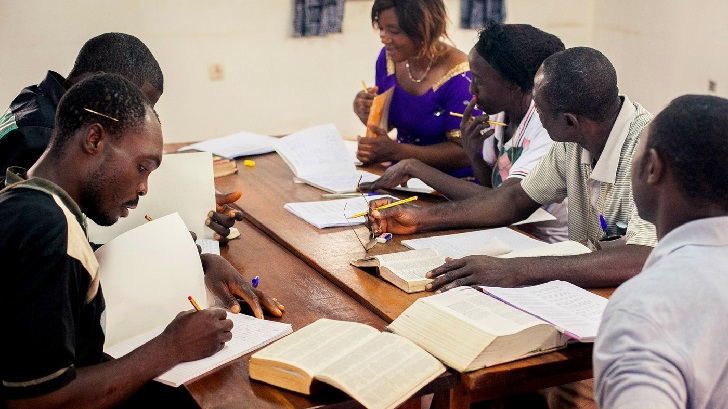 Wycliffe Associates' new model, dubbed "MAST" (Mobilized Assistance Supporting Translation, above in Cameroon in 2015**) and now widely in use, cut the time required to translate the Bible into a new language from 20-30 years to just a few months or even less, depending on the number of volunteering translators, and slashed its cost from $2,000,000 to $20,000.***
What if the local language is unwritten and purely oral?
Instead of taking a decade to create and teach a written form of that oral language, Wycliffe Associates has the volunteering indigenous Christians orally translate the Bible into a digital device. The MP3 files are then compiled, copied and distributed to be listened via MP3 players or mobile phones.
Don't such "unprofessional" translations contain errors?
The first version of which "professional" translation was error-free? Besides, the Wycliffe Bible Translators' "Bibles" for Muslims intentionally replace "God the Father" with "Allah" or "Guardian," and change the "Son of God" into "Representative of God" or "Beloved one from God" in order to trick and appease the Muslims. Compared to "professional" translations that intentionally blaspheme the Lord, Wycliffe Associates' MAST translations are already superior and will continue to improve with each future edition.
Wycliffe Associates currently has about 7,000 volunteers worldwide, including hundreds who live in an RV park on Wycliffe Associates' campus in Orlando, Florida. They serve in management, training and other roles with the aim of having the Bible translated into all remaining languages by 2025.
Weaknesses
1. Asset Depletion
In its eagerness to get the Bible translated into all remaining languages by 2025, Wycliffe Associates has been depleting its assets, which has been halved in just two years, from $40 million in 2015 to $20 million in 2017 (see below). At this rate of depletion, Wycliffe Associates will be bankrupt by 2019, so it needs more money.****
WYCLIFFE ASSOCIATES
2015*****
2016*****
2017*****
Contributions


Other Revenues


Total Revenues

Bible Translating Ministry
Fundraising


Management & General


Total Expenses

Revenues - Expenses



$22.7 million


$18.4 million


$41.1 million

$27.7 million
$5.4 million


$2.1 million


$35.2 million

$5.9 million
$22.8 million


$8.2 million


$31.0 million

$32.6 million
$7.0 million


$2.8 million


$42.4 million

-$11.4 million
$22.8 million


$14.0 million


$36.8 million

$33.3 million
$7.7 million


$4.0 million


$45.0 million

-$8.2 million
Total Assets
$39.9 million
$28.5 million
$20.3 million
2. Reliance on Fundraising
In 2016 and 2017, Wycliffe Associates spent $7.0 million and $7.7 million to raise $22.8 million and $22.8 million in contributions, representing high Fundraising / Contributions ratios of 30% and 34%, respectively. Wycliffe Associates should stop relying on people and prayerfully rely on Him who owns everything.
Unless the Lord builds the house, they labor in vain who build it; unless the Lord guards the city, the watchman stays awake in vain. (Psalm 127:1)
* "That pestilent and most wretched John Wycliffe, of damnable memory, a child of the old devil, and himself a child or pupil of Antichrist... crowned his wickedness by translating the Scriptures into the mother tongue." - Thomas Arundel (1353-1414), Archbishop of Canterbury
** http://www.christianitytoday.com/news/2016/march/wycliffe-associates-leaves-wga-bible-translation-son-of-god.html
*** https://www.wycliffeassociates.org/what-we-do/project/79
**** billionbibles.com has no relationship with Wycliffe Associates.
***** https://www.wycliffeassociates.org/who-we-are/annual-reports