Is God's Name Jehovah?
Is God's Name Jehovah?
Is God's Name Jehovah?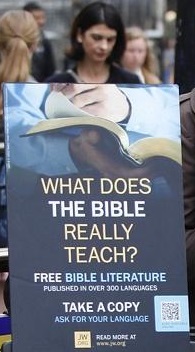 Here is how to refute the Jehovah's Witnesses' claim that their New World Translation is the only accurate translation of the Bible's original text because it uses God's name, "Jehovah."
Jehovah's Witness - But the New World Translation uses God's real name, "Jehovah."
Christian - Imagine finding a document in which the second letter is missing from a person's name with five letters and the other four letters are visible as "T_mmy." That name could be "Timmy" or "Tommy" or even "Tammy," couldn't it?
Jehovah's Witness - Yes.
Christian - Now imagine someone has no evidence that the second letter is an "i" but claims that the name is "Timmy" and that he is the most accurate one because he is guessing it to be "Timmy." What would you say about that person?
Jehovah's Witness - I would say that he is making unwarranted claims about both the name and his accuracy.
Christian - The original Old Testament had God's name, but to prevent His holy name from being blasphemed, Jewish scribes began to remove the vowels from His name and record only its four consonants: YHVH. None of the manuscripts of the Old Testament discovered to date have the vowels, so until the manuscripts that predate their removal are discovered by His grace, we don't and won't know what all of them are. To refrain from recording God's name incompletely or erroneously until then, most English translations simply record "LORD" where the Hebrew is "YHVH." Does this make sense?
Jehovah's Witness - Yes.
Christian - So are the New World Translation's claims about the name of God and its own accuracy warranted or unwarranted?
Jehovah's Witness - Unwarranted.