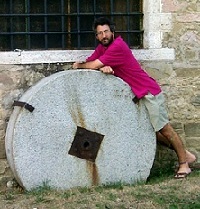 (continued from Faithful in Little)
The previous pages are not intended to discourage missionaries from going, including to China, where the largest harvest in history needs many more missionaries.
It is prompted by the current reality in China, where the sheep suffer from well-meaning but misguided and/or unprepared missionaries from the West. Honest prayers and self-reflections are advised before you go, for the sake of the sheep, as well as the shepherd:
"But whoever causes one of these little ones who believe in Me to stumble, it would be better for him if a millstone (right) were hung around his neck, and he were thrown into the sea." (Mark 9:42).
"My brethren, let not many of you become teachers, knowing that we shall receive a stricter judgment." (James 3:1)
If you are to go, be advised that while many missionary sending organizations provide value-adding services, money has become the focus of some, including those that charge exorbitant fees. Increasing amounts of information is available on the internet, which is decreasing the value added by information intermediaries.
Raising funds is an option, not an obligation, to be a missionary to China, which accepts workers but not missionaries. Native English speakers under 60 years of age with a bachelors degree will find it relatively easy to find jobs that cover living expenses and provide access to potential sheep.
For at least the first 2 years of your residence in China, it would be safe to expect the Chinese government to record all of your telephone conversations, emails, text messages and even conversations in bugged rooms. Sensitive conversations are best reserved for outdoor strolls.
Please also read this warning about serving either the Three Self church or the house church.