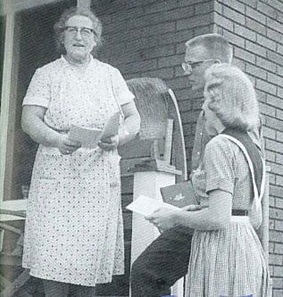 Founded by Bill and Betty Chapman, an American couple who gave Bibles to neighbors who didn't have but promised to read them (right), Bible League started in 1938 as "American Home Bible League," which subsequently became the "World Home Bible League," and eventually, "Bible League International."
Bible League International ("Bible League") distributes Christian literature, hosts Bible studies, and trains church planters. Geographically, Bible League targets "under-resourced" Christians, not necessarily persecuted Christians, in about 40 countries, including Albania, Argentina, Armenia, Bangladesh, Cambodia, Chile, China, Colombia, Dominican Republic, Ethiopia, Ghana, Haiti, India, Indonesia, Kenya, Madagascar, Malaysia, Mexico, Mozambique, Nepal, Nicaragua, Peru, Rwanda, South Africa, Sri Lanka, The Philippines, Thailand, Uganda, Venezuela, Vietnam, Tanzania, Zambia, Zimbabwe and the United States.
Weaknesses
In 2011, Bible League merged with World Bible Translation Center (WBTC) and was led for a while by its president, the author of The Power of Positive Thinking. In 2016, Bible League appointed a new leadership team of four, including president, from fundraising, finance, accounting and human resources backgrounds; none of the four have ministry experience, missionary experience or Christian education.
The "Bible" that Bible League distributes, including in 32 foreign language translations, remains the WBTC's ERV (East-to-Read Version), which is gender-neutral and flawed. For example, 1 Timothy 3:11-12 in NKJV precludes men who are in homosexual "marriage" from serving as deacons; the same passage in ERV does not preclude them:
NKJV (1 Timothy 3:11-12)
11 Likewise, their wives must be reverent, not slanderers, temperate, faithful in all things. 12 Let deacons be the husbands of one wife, ruling their children and their own houses well.
Bible League's ERV (Gender Neutral)
11 In the same way, the women must have the respect of others. They must not be women who speak evil about other people. They must have self-control and be women who can be trusted in everything. 12 The men who are special servants must be faithful in marriage. They must be good leaders of children and their own families.
In 2016, Bible League spent $5.1 million on fundraising to raise $17.6 million from US donors. Bible League's 29% ($5.1 million / $17.6 million) fundraising cost percentage is more than double Open Doors' 12%.
Solutions
1. Distribute real Bibles.
2. Bring up or in leaders who can provide spiritual leadership.
3. Emulate the fundraising practices of HeartCry.