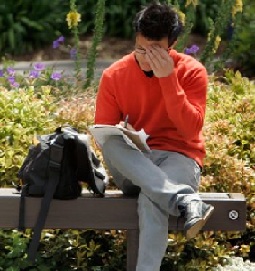 (continued from How to Become a Missionary)
C. Have you been faithful in little?
"And he said to him, 'Well done, good servant; because you were faithful in a very little, have authority over ten cities.'" (Luke 19:17)
Hundreds of thousands of Chinese currently study abroad, including over 300,000 in America alone. If you feel called to be a missionary to the Chinese people, have you already been a missionary to the Chinese students at a college campus near you, perhaps through Christian Outreach Ministries?
If not - if you haven't been faithful in little by sharing the Gospel with the Chinese near you and in the relative ease and freedom of the West - why would God send you to Communist China, where you must overcome legal, linguistic, cultural and other barriers to share the Gospel?
D. Have you died to yourself?
Westerners arriving in China or another developing country are instantly elevated in status and attractiveness, including to the opposite sex, and temptations will abound. If you haven't died to your earthly desires, you are likely to fall, especially if you feel that Jesus owes you something for your 'sacrifice' of being a missionary for Him.
If instead you feel that His cross is already far more than you deserve and that the rest of your life is to be a living sacrifice for Him, you will be better prepared to resist the temptations and to walk your talk before the sheep.
Remember that when Jesus said, "take up the cross, and follow Me" (Mark 10:21), He was telling us to follow Him to the cross and die to ourselves, as He exemplified, to produce much grain:
"Most assuredly, I say to you, unless a grain of wheat falls into the ground and dies, it remains alone; but if it dies, it produces much grain." (John 12:24)
(continued at Missionaries in China)